Celebrate all things Irish at one of the nation's best St. Patrick's Day parades. See marching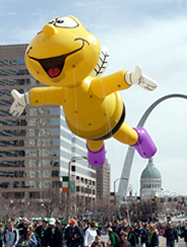 bands, floats, huge cartoon caracter balloons, more than 5,000 marchers, clowns and more. Food and drink will be sold throughout the parade route.
The parade kicks off at noon at 18th and Market Streets in downtown St. Louis. The parade proceeds east to its conclusion at Broadway and Market Streets, and takes place rain or shine.
Between 8 a.m. and 11 a.m., families are welcome to watch the giant helium character balloons close-up as they are being inflated. See Murphy the Leprechaun, the Irish Flag and all of the other balloons rise up before your eyes. The balloons will be inflated in Aloe Plaza, near the corner of 18th and Chestnut.