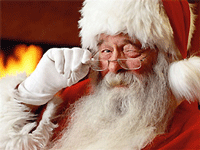 Santa Claus will make special visits to the Museum of Transportation during the holiday season to hear children's wishes and some quality lap time. Bring your camera for a souvenir photo!
Visits are scheduled for:
Friday, Nov. 29: 10 a.m. to 2 p.m.
Saturdays: Nov. 30, Dec. 7, Dec. 14 and Dec. 21: 10 a.m. to 2 p.m.
Sundays: Dec. 1, Dec. 8, Dec. 15 and Dec. 22: Noon to 3 p.m.
Included with museum admission.
More information:
museumstlouis.org