---
THINGS TO DO: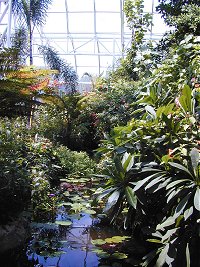 The tropical conservatory is the heart of the Butterfly House. Its carefully controlled environment houses nearly 2,000 tropical butterflies in free flight. As many as 80 butterfly species and 150 tropical plant species are exhibited. Few moments in nature are as magical as watching a butterfly emerge from its chrysalis. This rarely seen transformation becomes an everyday occurrence in the "Miracle of Metamorphosis." Hundreds of chrysalides from around the world are on display with butterflies emerging before your very eyes.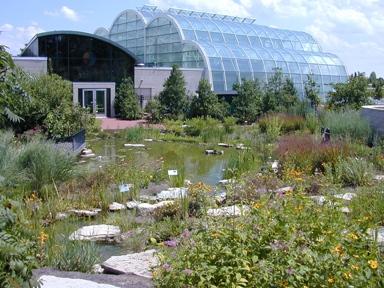 Our outdoor Butterfly Garden is a "backyard" demonstration garden.
Plants were carefully selected to provide habitat for the animals in
Faust Park and to serve as host plants
for caterpillars and nectar sources for butterflies.
The Monsanto Teaching Pavilion sits in the Butterfly Garden and
provides a favorite location for many weddings.
Overlooking the Butterfly Garden to the north and the reflecting pond to the south, the Emerson Lakeside Terrace is a multi-use patio that hosts weddings, receptions, corporate events, and black-tie galas. For information on
private events at the Butterfly House
call (636) 733-2339.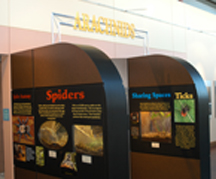 The Exhibit Hall is where you'll find
Small Wonders
, a living exhibit focusing on the habitats and lifestyles of various invertebrates, and
Arachnids
, where you can get up close and personal with spiders, scorpions and their relatives. Don't miss the
Butterflies of the World
exhibit to get a glimpse of butterfly diversity. For our younger guests, the children's video,
Butterflies
, is shown continuously in the hallway. Finally, explore the world of
Aquatic Invertebrates
before exiting to the native Butterfly Garden.
Madame Butterfly Gift Shop
---
Our
gift shop
offers something for everyone in an atmosphere brimming with souvenirs, educational toys, books and unique gifts related to butterflies and the natural environment. Proceeds from the shop support the continued operation of the Butterfly House.
Overhead a graceful arch heralds the beginning of a magical experience. Underfoot, the plaza is constructed of
butterfly-shaped paving stones
. Many of the stones, inscribed with personal messages, tributes, and memorials, are gifts from families and individuals. There is still space to add your family milestones.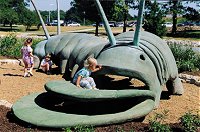 A 30-foot long caterpillar sculpture sits among native prairie plants just outside the entrance. It was created by artist Bob Cassilly and presented to the Butterfly House by Lucy and Stanley Lopata.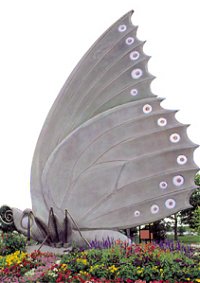 Surrounded by seasonal gardens, this sculpture presents a great photo opportunity for families. The 28-foot tall butterfly was created by St. Louis sculptor Bob Cassilly and given to the Butterfly House by Rosemary and Joe Shaughnessy in honor of their grandchildren.
The Butterfly House is Open 9 a.m. to 4 p.m.
7 days a week through the end of March

$6 general admission
$5 seniors 65 & over
$4 children 3-12
Free children 2 & under